Like I promised yesterday (unlike
other
promises I've made), here are the
caaauuuttteee
centerpeices I made for my sister's reception. Sorry about the lighting, no matter how I positioned them, the light from the window kept shining on the pics too much: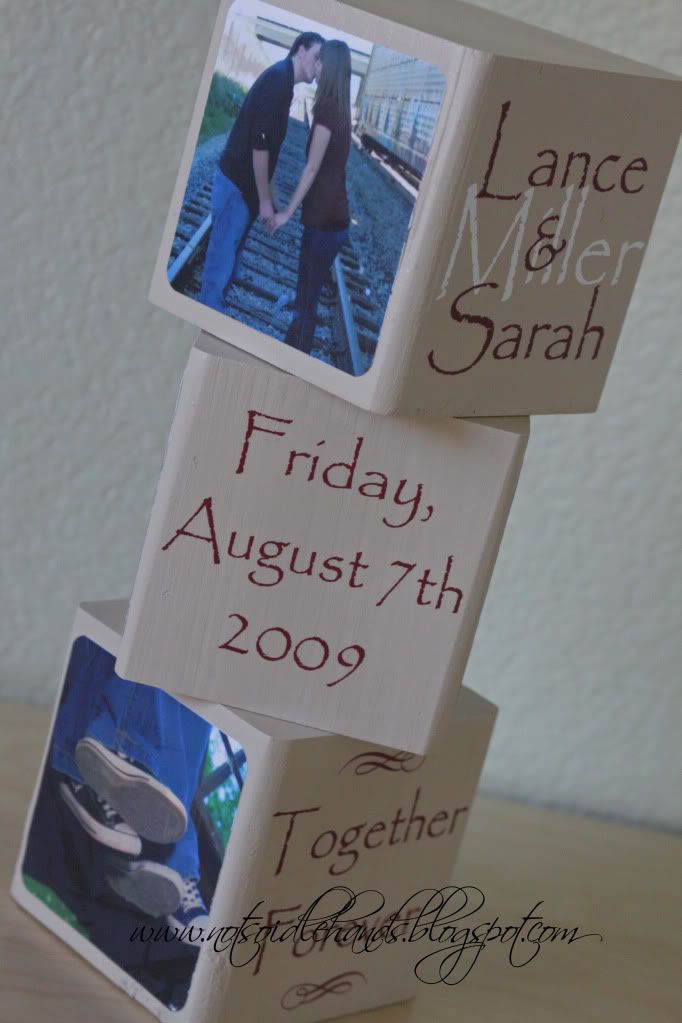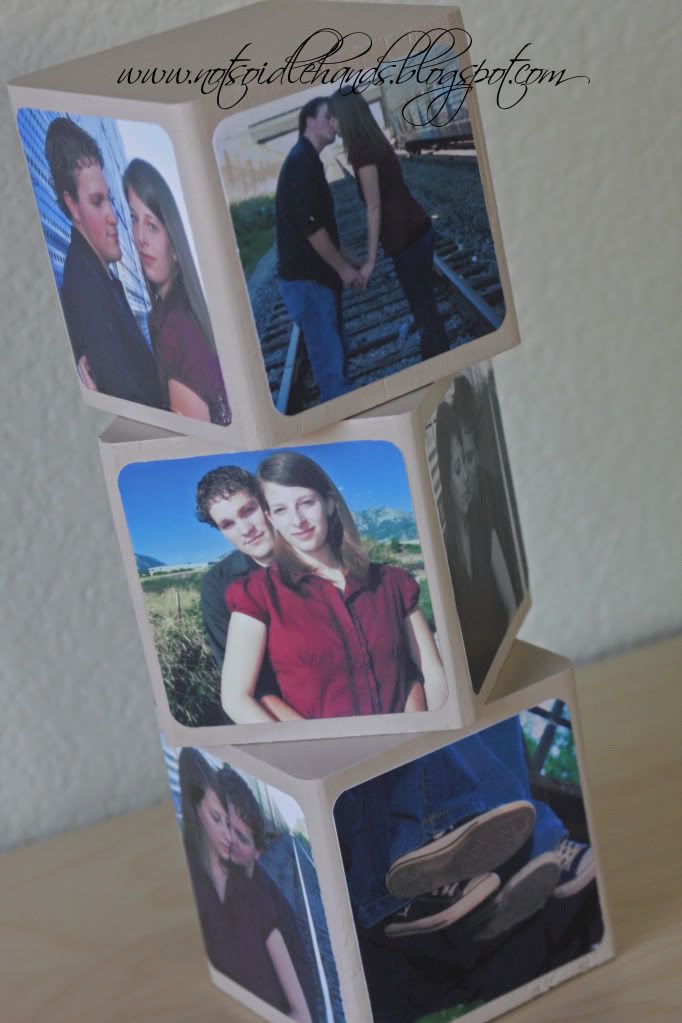 I had my sweet hubby cut blocks for me like with the "Be" blocks
here
. Then I painted them 2 coats of "linen", but I didn't distress these ones (that would be WAY too much going on).
While the paint dried……..I printed out and cut down some pics from their engagement photo shoot (no, I didn't have the pleasure of shooting those pics). Then, I used some "Aleene's Tacky Glue" (super cheap!) to stick the pics down. Regular glue or Mod Podge probably wouldn't work since the pics are thick.
On mine, I added some vinyl words to one side of each block to personalize them for the happy couple. You can also use stickers or rub-ons to add words to get a similar look.
Be sure to wait plenty of time to let the glue dry and then spray with a clear finishing spray or apply a few coats of Mod Podge.
BE SURE TO WAIT AT LEAST A WEEK BEFORE STACKING THESE OR THEY WILL STICK TOGETHER………the finish needs time to cure. You don't want to spend all that time making these cute blocks only to have them stick together and rip your photos off.
On our car ride up to Utah, we made sure to pack these carefully, but somewhere in Nevada (HOT like the sun!!!) some touched and got stuck (melted) together and were RUINED!!!!
So, the lesson is not to drive on the surface of the sun with freshly made photo blocks.
I have been wanting to make some of these with pics of my kiddos for a llloooonnnnggggg time, but I have this weird thing where I want to wait till we have all 3 kiddos before I do things like this (I know, I'm a big weirdo……..but a little OCD too, if you haven't noticed yet :).
Also, I'm OCD with my blog, too! I keep trying to get it just the way I want it…..but alas, it's taking some time. But…….I am learning a TON about HTML (I'll post all about it when I'm done).
Have Fun!