If you are looking for my super-duper giveaway, go here. But, hurry cuz it ends Sunday at midnight!
Well, all the excitement of making lip balm (they get excited easily :) made my kiddos want some of their own too. I usually just let them each have one of mine (since I now have 18 tubes!!!), but there was one thing I been wanting to try for awhile.
Kool-Aid lip gloss!!!
But, then I needed to find a little pot to put it in.
Then I remembered something I saw last night,……what Nikki on Whimsy Love had made with her kiddos to keep bugs in, here.
At first I was sad because my kiddos don't like catching bugs, so sadly i won't be making this one.
But, then…….I had an idea!!!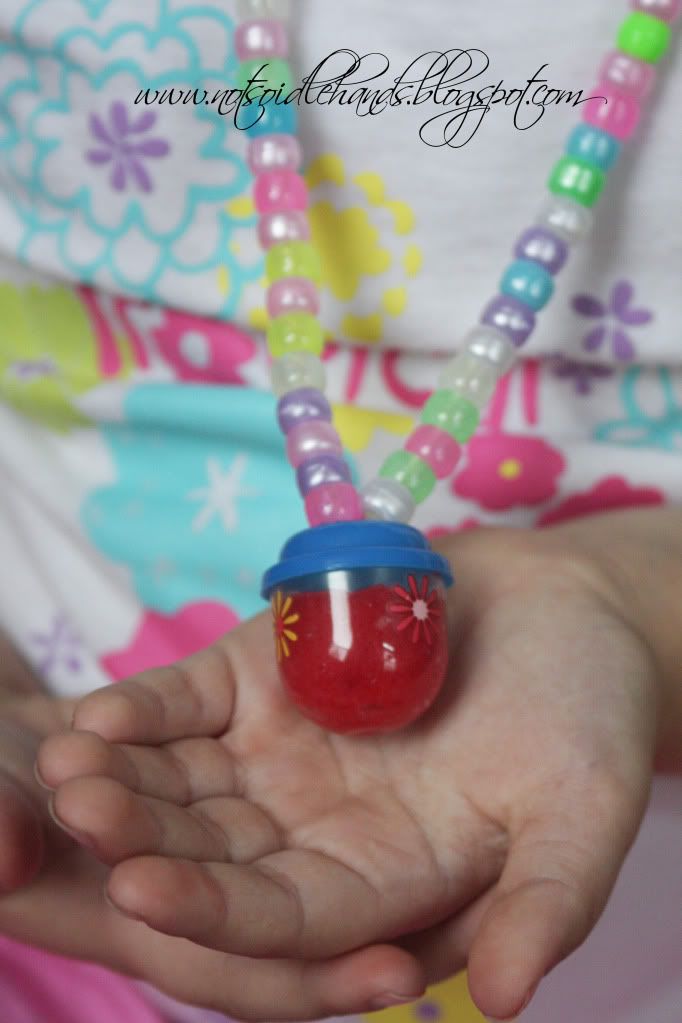 My kids could make these and use them as lip gloss pots…..SO CUTE
&
It's FREECYCLING!!!
I knew we had a few of those little capsules lying around the house and petroleum jelly and Kool-Aid and beads………so why not?
So, I went to find a few of those little pay-50 cents-for-a-toy-that-costs-a-penny-but-the-capsule-is-cooler, and we got to work.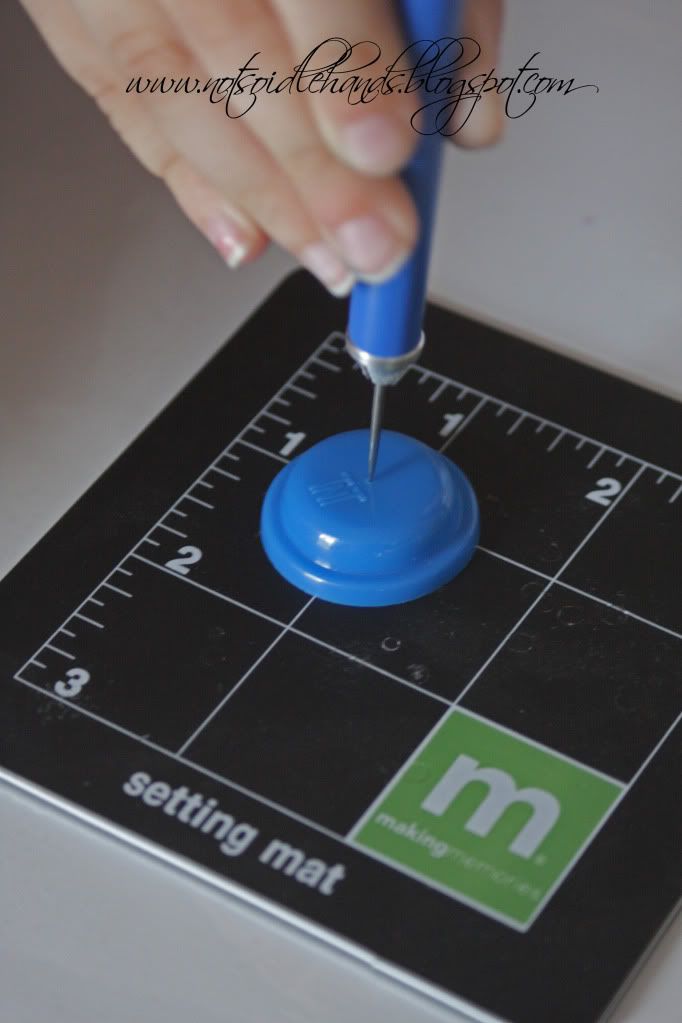 First, I let them help me poke a hole in the lid with my "paper piercer" (say that 10 time fast :), of course using a mat underneath so we didn't damage their newly re-finished craft table. Try to make the hole as big as you can.
After that, they helped me add some flower rub-ons to the sides of their capsules. I like the way it turned out!
Then, I measured the hemp cording and, after cutting it, let them proceed by stringing beads while I started to make the lip gloss (since I had never made it before, I knew I might have to improvise some things).
Here's what worked for me. Since the petroleum jelly (PJ from now on), is not water-based it did not mix with the Kool-aid, so I, first, added a few drops (start off with 2 drops, you don't want to add too much water) of water to the Kool-Aid (between 1/2 – 1 teaspoon of Kool-aid) to dissolve it a tiny bit and make it turn that deep red color. Then I added the PJ (I think it was around 2 teaspoons) and mixed it up well. The Kool-aid was still a little grainy, but my daughters didn't mind :)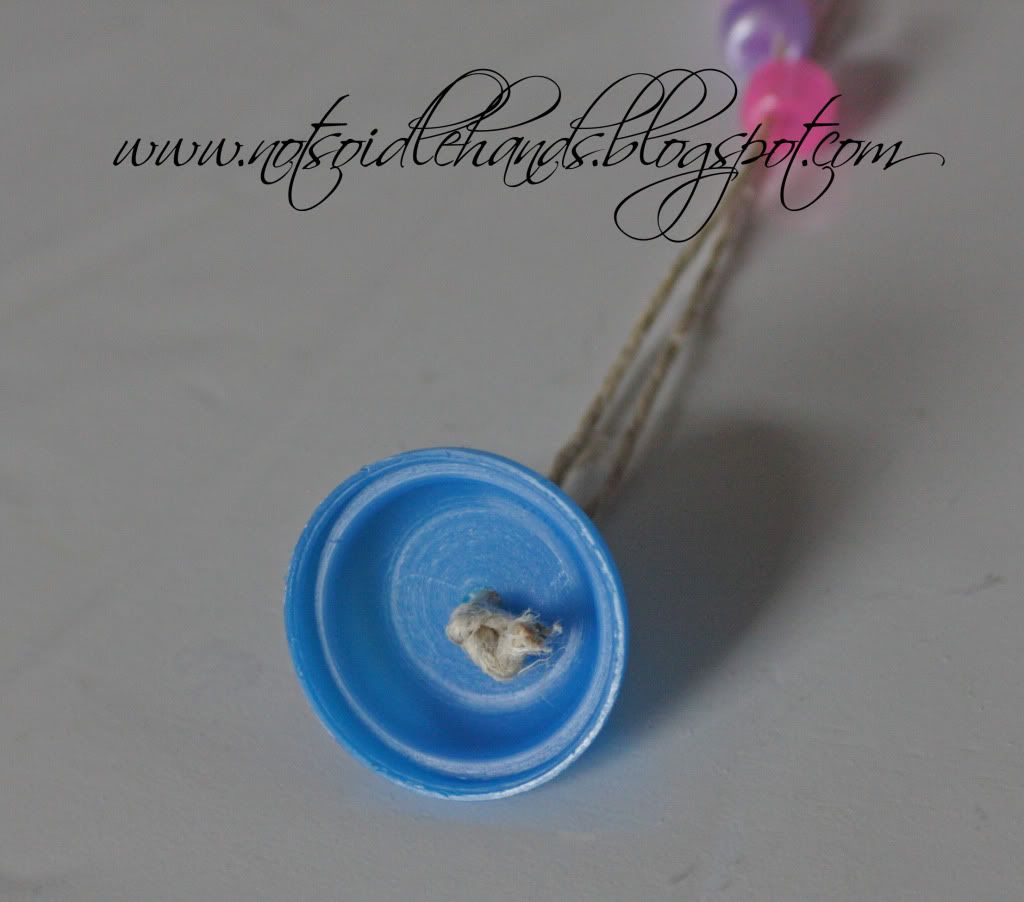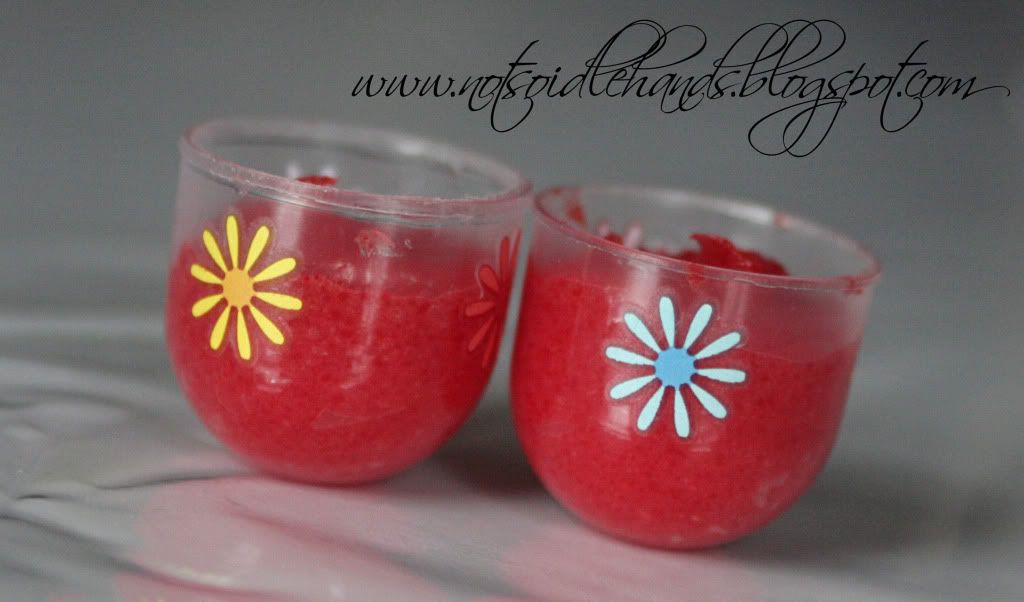 Once they were finished stringing beads (my girls didn't want to add alot of beads for some reason), I put the 2 ends of the cording through the hole and tied a knot so it wouldn't slip back through. Then, I added the oh-so-sweet-smelling lip gloss and……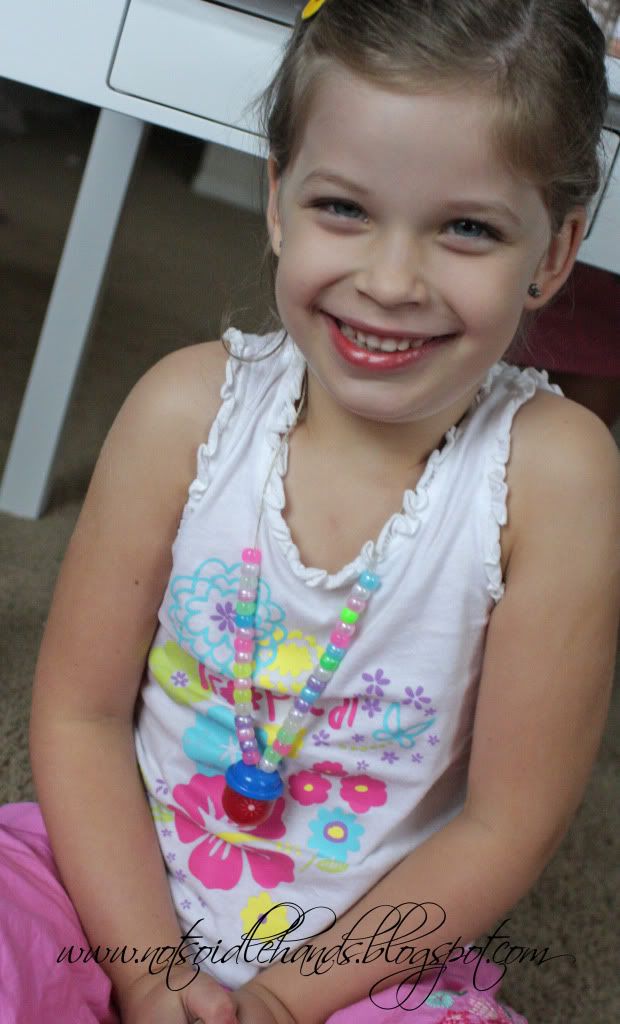 Ta Da! Their very own lip gloss on a string!
Madison was SO happy and wanted to take tons of pics, but Aislyn lost interest and didn't want me to come near her with the camera :)
Have fun!