If you are looking for my giveaway…..scroll down to the next post.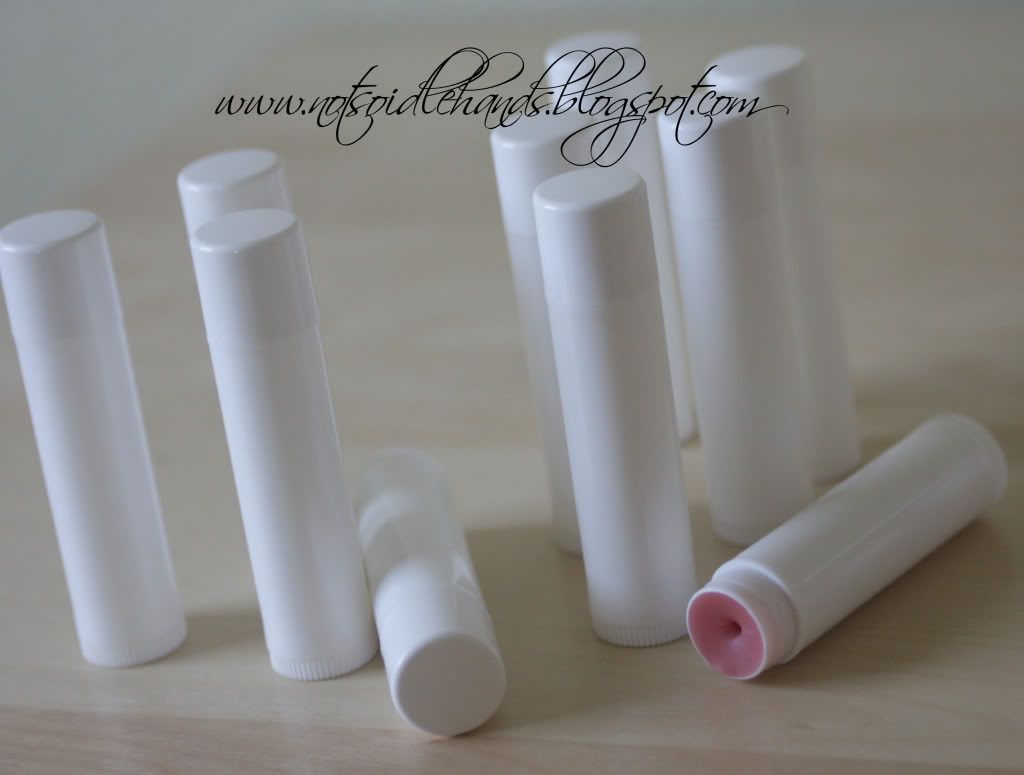 Well, I was needing some more lip balm and whipped up a batch today so I could take pics and show you all how easy (and cheap) it is to make your very own!
I LOVE Burt's Bees, but can't bring myself to pay 3 bucks (or more) for each tube. I go through a lot of lip balm (HAVE to have it with me constantly), so I needed to find something that took good care of my luscious lips AND my wallet.
So, I started making my own and have been ever since.
I've been making & experimenting with bath stuff for years. I've made soap (yup, the old-fashioned way with lye), bath fizzies, salt/sugar scrubs, masks, candles, and even lotion…..once.
But, my all time favorite things to make it lip balm. Cuz it's sssoooooooo easy!
First of all, I've been using the same company for supplies for years…….and they are still great! Don't be fooled by the look of their website, though. They are the best and carry a huge supply of ingredients, containers, and even bases (you can just get a lip balm base, and add your own colors and additives). They are very knowledgeable, friendly, and helpful, so stop by and have a look here. Majestic Mountain Sage.
Now, here's how you can make your own too!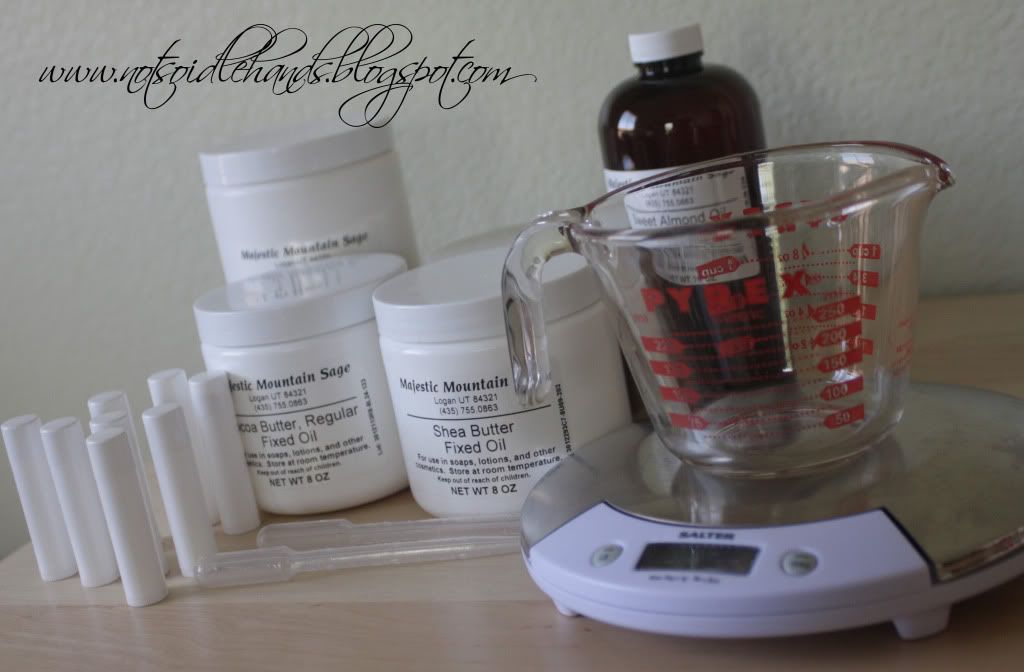 First, gather some supplies. I just LOVE their recipe for the "Honey a La Lip Creme" (found here) but cut the sweet almond oil in half (from 45 grams to 22-ish) so it's firm enough to go into tubes since I use it so much and tubes are easier. I also substituted shea butter for coconut oil since I didn't have any and added a little more honey (I like it sweet :)
You don't even have to follow a recipe, you can go here to get a general guideline of ingredients to make up your own recipes.
Pay attention to the "oils" since some are solid at room temp and some are brittle at room temp….kinda weird. Here are a few pics of what this stuff looks like at room temperature.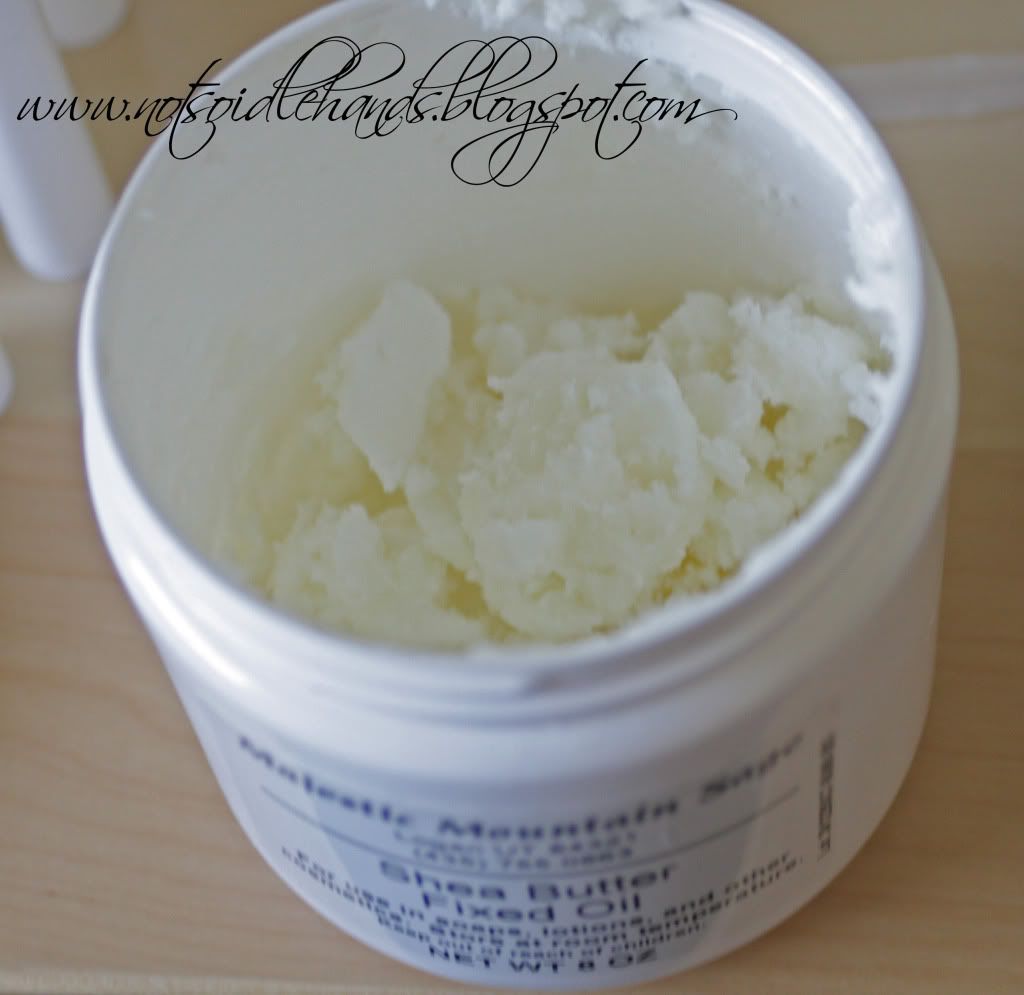 Shea Butter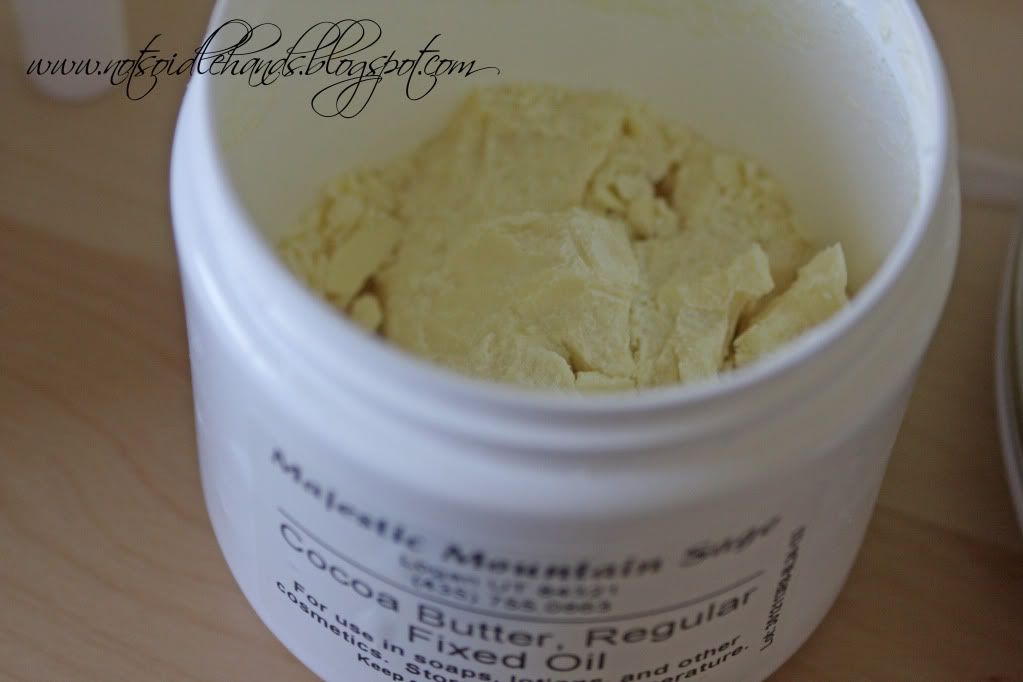 Cocoa butter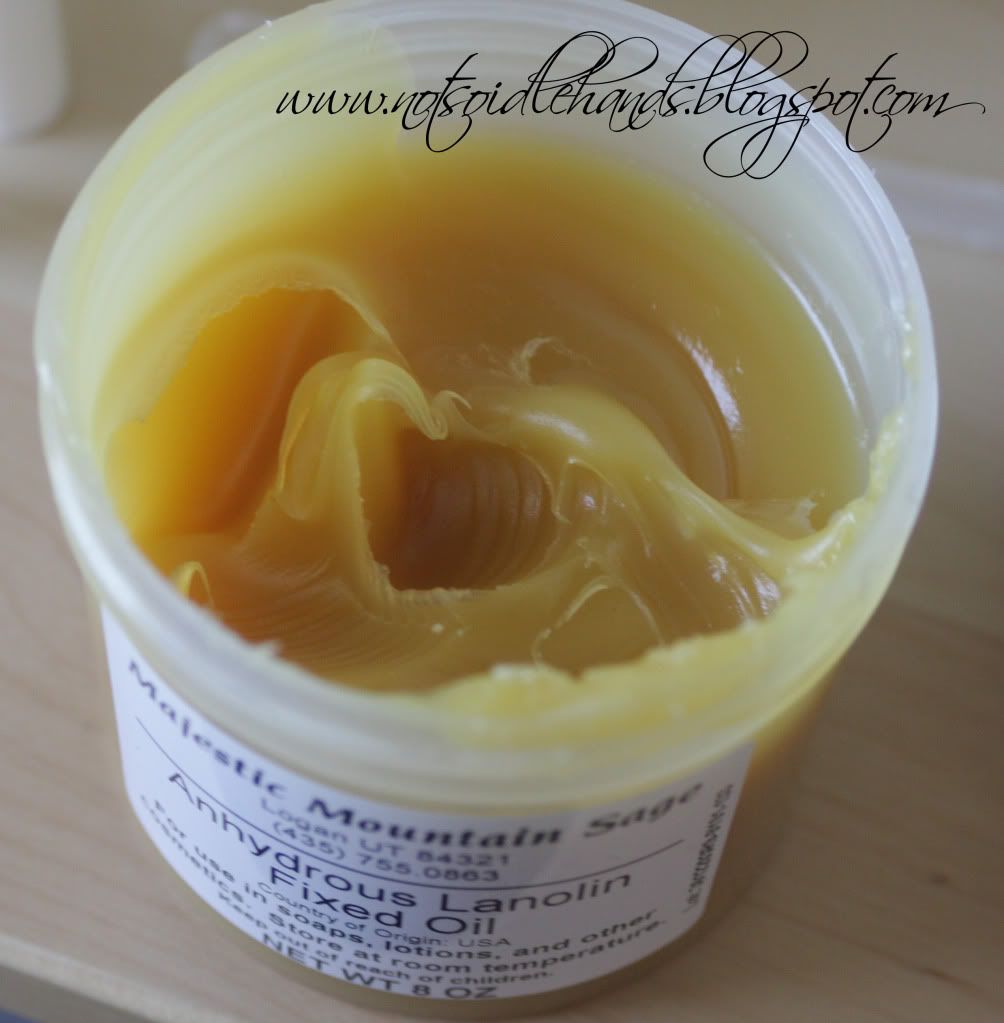 Lanolin
Once gathered, I like to measure everything out into a glass measuring cup so I can just pop it into a pan of boiling water to melt it (aka, double-boiler). The easiest way to measure, is to zero the scale after adding each ingredient so you don't have to try to keeping adding in your head.
Then, once everything is measured out, pop your cup in the boiling water and let it melt. This is a great time to add any tinting you want. I usually just cut off a small piece of my lipstick and throw it in. It's just a little tinting, but I like it, since I can't wear much lipstick because it gets on my braces (yummy!)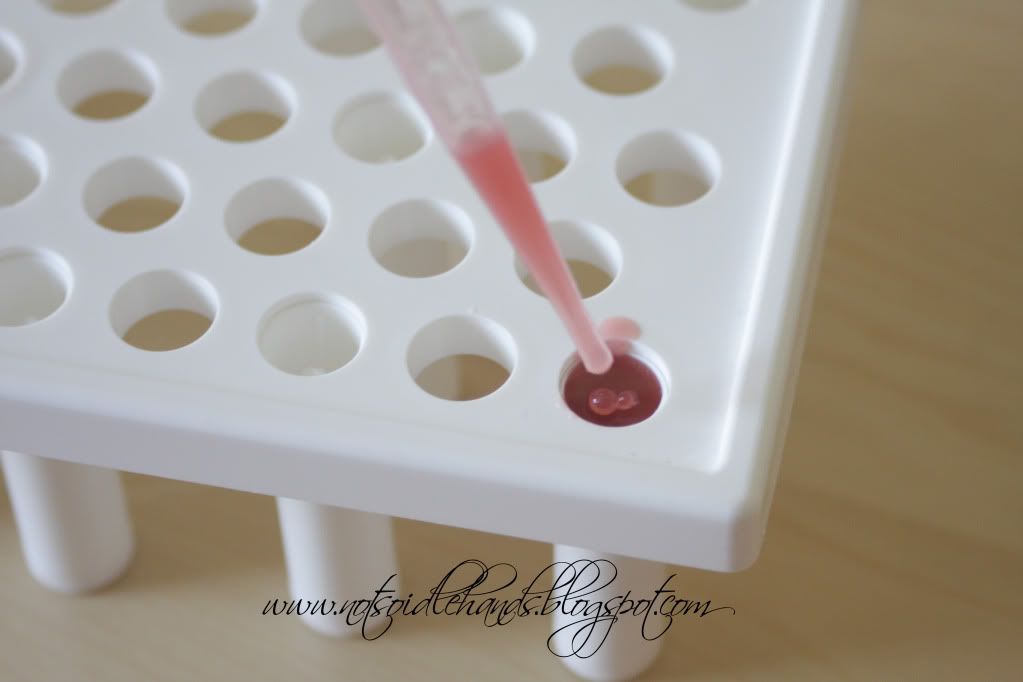 After it's melted, use pipettes to fill the tubes. Just stand the tubes up and hold onto them while you fill and make sure to fill all the way up to the top. I went ahead and got this handy-dandy filling tray to hold them upright so I could fill faster and not worry about spillage.
Just make sure to keep stirring in between each tube so the honey doesn't settle.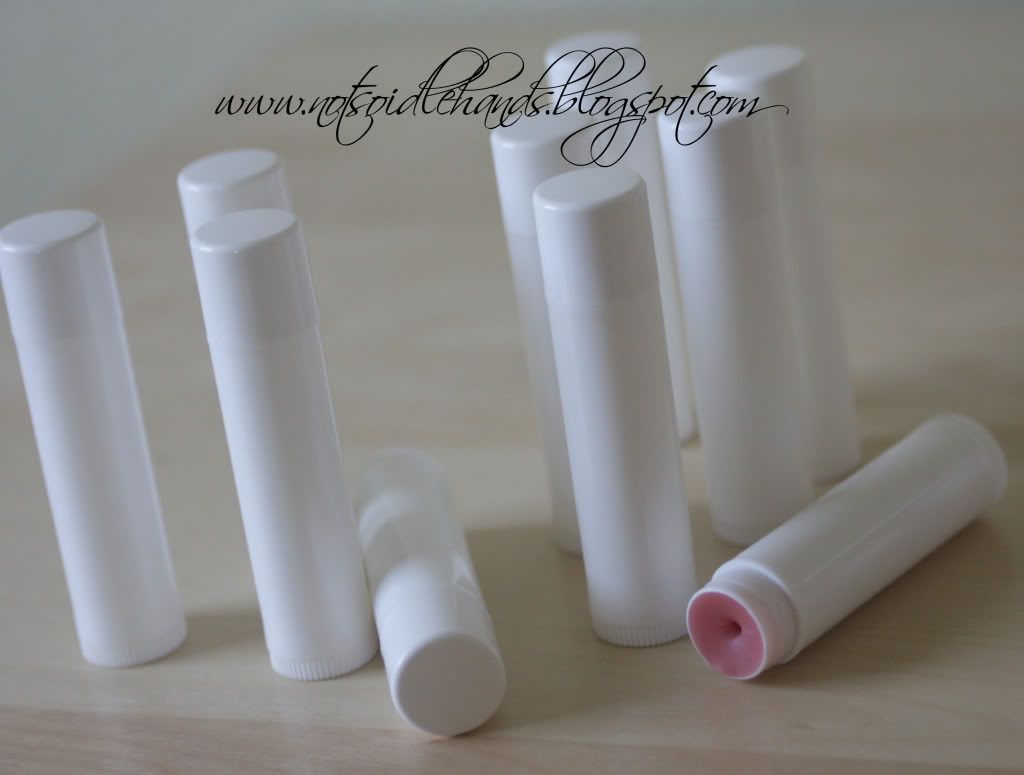 These just take about 5-10 minutes to cool….and you're ready for your HOT-DATE!
Since I always make my own……I went ahead and bought a scale that measures small amounts AND I can switch it back and forth from grams to ounces. Or, you can go here and they have a calculator that will convert it for you.
Also, I noticed that Not Martha posted a great tutorial about this awhile back here. She did a great job of researching things out and she even used the same company as I do for some of her supplies! At the bottom she puts measurements to make a smaller batch if you just want to try it out.
Update: Just FYI……The recipe that I mentioned above ended up giving me 18 tubes!!! I just didn't put that many in the picture I took cuz I was lazy :)
Have fun and let me know if you have any questions!