Hey kids…..I just wanted to take a few minutes tonight to tell you all that
I WON!!!!
I am ssooooooo lucky, too. 'Cuz it's ca-uute!
I actually won it back on August 24th, over at Chrissie Grace's blog "In his Grace."
She is such a talented artist and makes TONS of cute stuff AND she's even having a sale RIGHT NOW, as I type. So, hurry on over there to get yours!
This is what I won. They came in the mail on Friday and I was so happy……..'cuz I LOVE to get packages AND it was a PRIZE!
Perfect for a gal like me who has 2 very girly girls. Thanks so much Chrissie and the folks over at All Children's Furniture!!
So,
Since I won something cool I wanted to give something away to one of you. Here goes: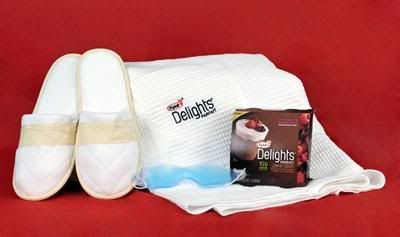 I was asked by MyBlogSpark to sample this super-yummy Yoplait Delights (and they sent me a cute "Delight your day" gift pack as well!).
So, I tried their Chocolate Raspberry (of course I picked chocolate!) and tried it that night when my craving hit.
It was so good! And hubby liked it too (but I only let him have 1 :) The best part was that each one is only 100 calories!
Alas, they are all gone now……so I must use this coupon to go get more! But and they said they want to give a a free 4 pack AND "Delight your day" gift pack to one of my lucky readers. So, I decided this time I would randomly choose one of my followers…..
So,
Karen (of "The Snarkington Post")
e-mail me your info and I will promtly pass it along the the great people at MyBlogSpark so they can get your prize to you.
For everyone one else, you can go here to download a 1.25 off coupon for Yoplait Delights so you can try them for yourself!
Enjoy!