Happy Fall everyone!!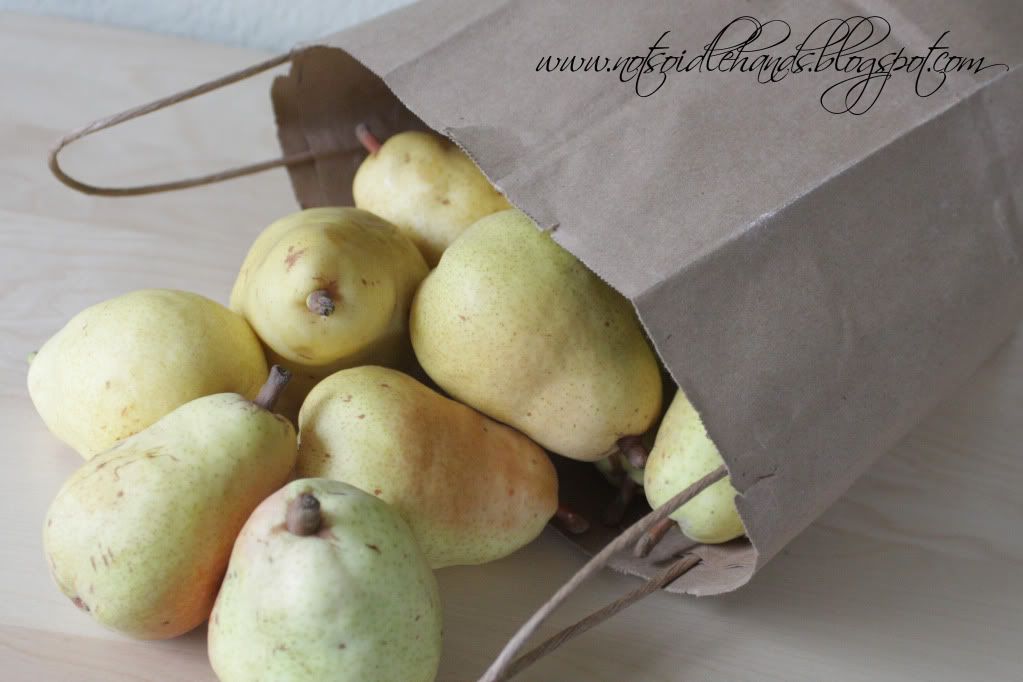 We all know that Fall brings yummy apples and juicy pears…..but what to do when you have 9 lbs. of those juicy pears?
Well, make freezer jelly, of course!
We went to one of the awesome apple orchards near us a few weeks ago and picked a HUGE bag of luscious pears!
And, since I had gone to a RS class a few months ago about how to make strawberry freezer jam, (and was hooked!) I knew what I wanted to do.
You can get that recipe for the strawberry freezer jam
here
. It's SO easy and yummy!
So since I really love apple jelly, I thought I would whip up some pear jelly with our bounty of fruit. So I went to the Sure Jell
website
and found
this
recipe for apple jelly…….and since pears and apples are pretty much the same, I used it (minus the cinnamon).
So, since we had all those juicy, sweet pears, I decided to try my hand at juicing them for my pear jelly (I also want to try it someday with apples).
So, start with 3 1/2 lbs of pears (or apples) and cut off the stems and blossom ends. Then, cut them up into small pieces, but don't peel or core them.
Then, bring them to a boil with 3 cups of water. After they are boiling, cover the saucepan and simmer for 5 minutes. After 5 minutes, remove the lid and crush or mash up the pears and then cover again and simmer for 5 more minutes.
While that finishes cooking, layer a few layers of cheesecloth in a large bowl. Then once the pears are cooked, pour them into the cheesecloth and tie it closed. Then, let it all strain out and gently press the rest of the juice out.
We got TONS of juice out of ours (I had enough pears to do 2 batches of juice) and it was SO yummy and sweet! After I used most of it to make jelly, my girls gladly drank the rest :)
Then, use
this
recipe to make your jelly…..it's really quick! I did use slightly more Certo than the recipe called for to make sure it jelled a little firmer (so, it ended up being about 1 1/4 pouches of Certo). I got 4 batches out of all my juice, with plenty left over :)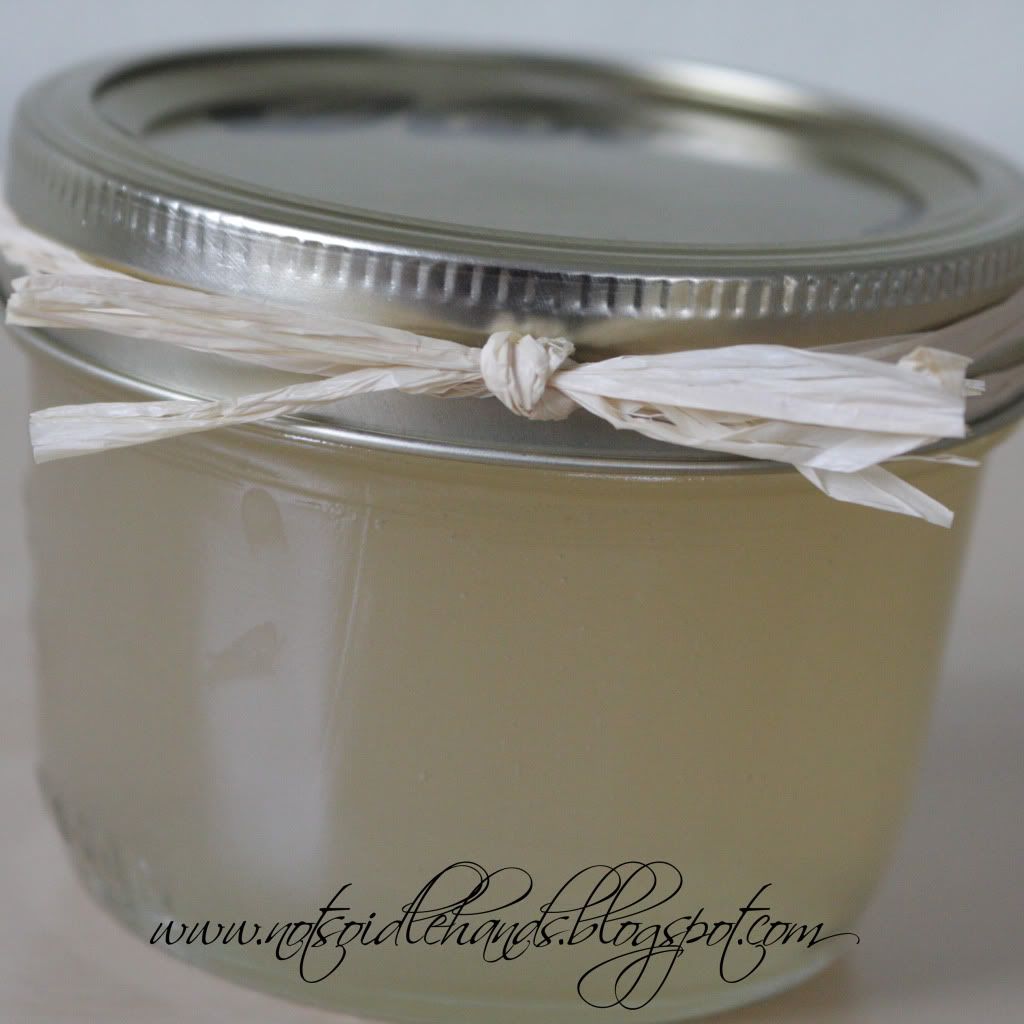 Use any airtight container to store these in the freezer, but I like the purdy glass ones……and they make great gifts!
Onto another related subject…..Peanut Butter (what's more related to jelly than PB?!)
Anyhoo, I wanted to get on my soapbox a little about PB.
I LOVE natural PB!
We've been eating it for years and my family never complained. And I don't feel guilty about feeding my kiddos all that extra sugar and hydrogenated oil. Nowadays, I don't even like the taste of "non natural" PB…….it tastes too sweet and not as peanut-y.
Well, I bring this up cuz a good friend of mine, who's a nutritionist btw, just wrote about PB
here
on her
awesome
blog. Go check it out….she even did a comparison taste test on a few brands (but not the kind we eat, though…..Adam's. You can find it at WallyWorld for around $2.44-ish for 16oz.)
K, so now all you need is the bread (I'll post about that soon), and you have the fixin's for a wonderfully balanced meal, like the ones my kiddos eat at least once a day (sometimes twice if I don't feel like making dinner when hubby is working ;)
Have fun!