Alrighty, I am finally posting the yummy baguette recipe you can eat with the great
jelly
(or jam! :) that I
know
you all made
right away
after I posted about it!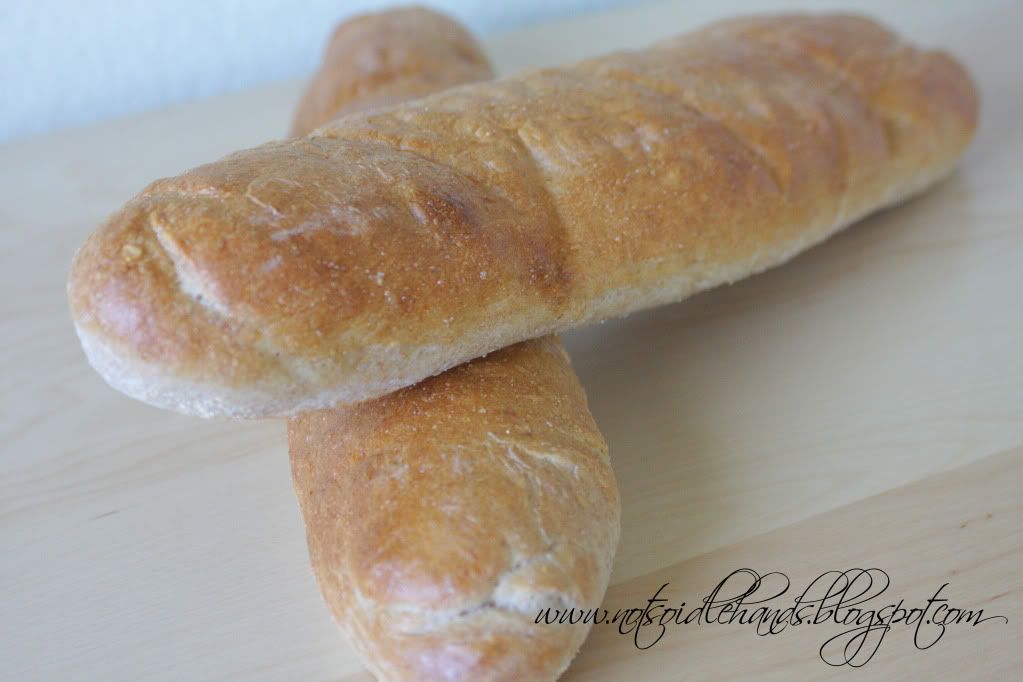 I got this from Cooking Light a bunch of years ago, but they don't have this same recipe on their website anymore (yup, you can only get it here folks!).
It's just like being in Paris again…….aannnnndddd
It's super~easy…..just start early since you have to let the dough rise a few times. Thanks again Cooking Light!
1 package dry yeast (about 2 1/4 teaspoons)
1 1/4 cups warm water (100~110 degrees)
3 cups bread flour, divided (I sometimes use half wheat flour and you can barely tell :)
1 teaspoon salt
cooking spray
1 teaspoon cornmeal
1 egg
Dissolve yeast in warm water in a large bowl; let stand 5 minutes.
Lightly spoon flour into dry measuring cups; level with a knife. Add 2 3/4 cups flour to yeast mixture; stir until a soft dough forms. Cover and let stand 15 minutes.
Turn dough out onto lightly floured surface; sprinkle evenly with salt and then knead until the salt is incorporated and the dough is smooth and elastic (about 6 minutes). Add enough of the remaining flour, 1 teaspoon at a time, to prevent dough from sticking to your hands (dough will still feel slightly sticky).
Place the dough in a large bowl coated with cooking spray, turning to coat the top. Cover the bowl and let it rise in a warm place for 40 minutes or until doubled in size.
After 40 minutes, gently press 2 fingers into dough, if an indentation remains, the dough has risen enough. Punch it down (come on….let's get rid of some of our pent-up anger!) and let rest for 5 minutes.
Divide the dough in half. Working with one portion at a time (cover the other half to keep it from drying out), roll each portion on a floured surface into a thick, 12 inch rope, slightly tapered at each end.
Place ropes on a large baking sheet sprinkled with cornmeal (to keep it from sticking…..I also use my Pampered Chef baking stones). Cover again and let them rise till doubled again.
Now preheat the oven to 450.
 Beat 1 egg and brush over the surface (this is optional, but I like it….if you like the dry-er top like the bakeries, then don't do this step), then cut 3 (1/4 inch deep) diagonal slits across the top of each loaf.
Bake @ 450 for 20 minutes or until browned on the bottom and sounds hollow when tapped.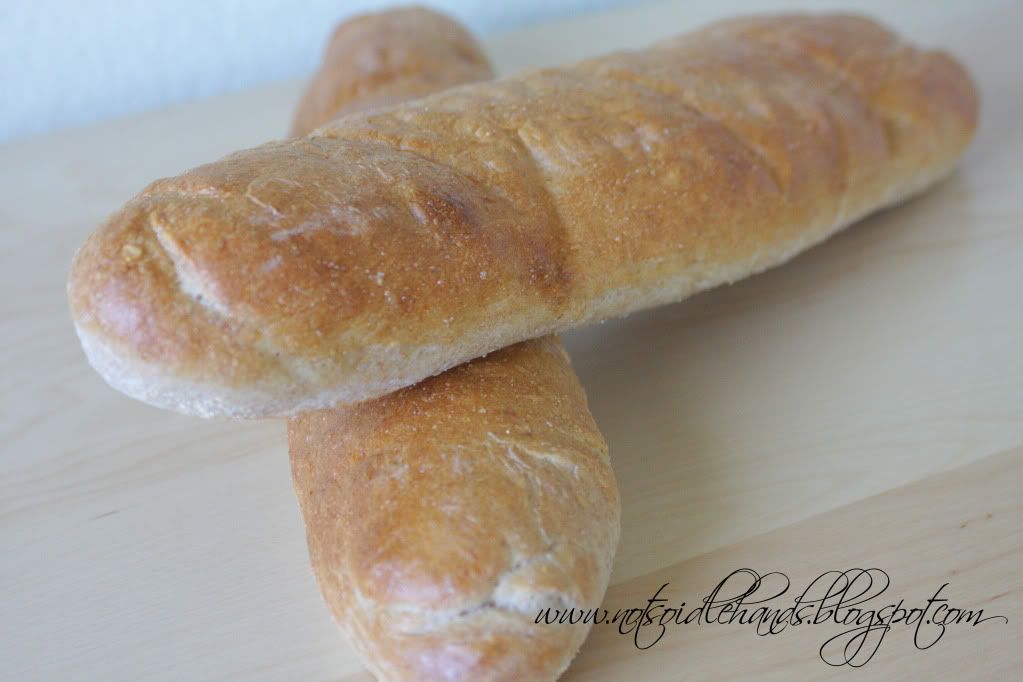 This bread warm out of the oven is great to go with some hot soup or stew and…….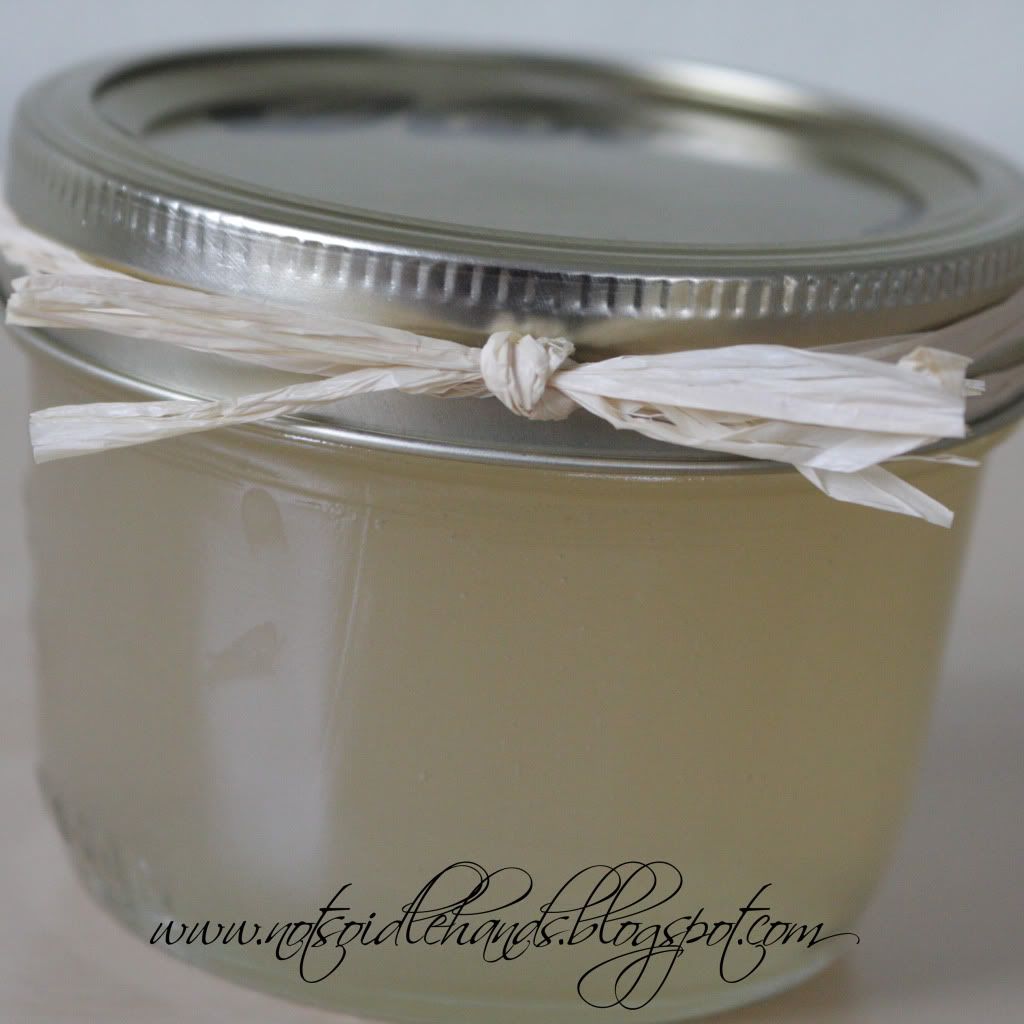 JELLY (or jam :)!!!
Have fun!