Hi!These are the ornaments that I made to show for Kristen yesterday for her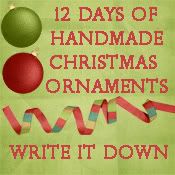 These Oh-so-cute-and-super-easy-to-whip-up photo ornaments!
I saw some like these on my friend's Christmas tree a few years back and HAD to make some myself! I've made these as gifts for grandparents and we have TONS on our tree each year too :)
AND…..
SO easy!!
Start off with some:
~ Plain glass ornaments (any size you want, but I like the 4in. (or 100mm) size since they are nice and big)
~ Vellum
~ Photo printer
~ Some Big, Fat, Purdy ribbon
Open your pictures in Photoshop or other editing software and size them down to 4″x 4″ and print out onto the vellum. (Sorry, but these pics printed kinda grainy)
Then, cut out in a 4in diameter circle. I cut a 4″ circle out of cardstock (yup, using my Cricut) and used that as a pattern.
 You can use a bamboo skewer to help get it in the perfect position, then i hold it in place with the topper (as shown).
The girls really wanted me to put snow into one of them…..and it actually looks pretty cute! Just add some till you like it (I used Martha Stewart snow glitter). But, I guess it would have been better to not put snow in the picture that was taken in August :0)
Now, top it off with a big fat ribbon……
and be sure to hang it in front of some lights on your tree so they shine through!
Be sure to make plenty for all the relatives and grandparents!Have fun!