Apparently my kids think they are deprived!
We hardly ever buy ice cream from the ice cream man (maybe once or twice in their lives).
I'm cheap AND it's SO terrible for them.
But here in SoCal…..the ice cream man comes year-round (except for when it's freezing cold and he knows there's NO WAY anyone is gonna buy ice cream)
So, a few weeks ago, When Maddie was off for Spring Break, since it was so warm, I had kicked sent them outside so I could get some stuff done inside.
Then, I saw Aislyn standing on the sidewalk and yelling something into the street. 
She was yelling: "Ice cream man…….come here!!!"
All the people in the cars driving by were giving her strange looks and then looking at our house as if to take note of where NOT to let their kids come play…..
Then, Maddie ran inside and a few minutes later went out again.
I had the front door open, so I could make sure no one snatched my kids, and when I peeked out next, I saw her parading around with a piece of paper attached to a popsicle stick  handwritten sign……
Apparently the yelling down the block wasn't garnering the results they had hoped for and Maddie had to resort to drastic measures.
I was almost in tears and sprinted back into the house to get my camera!!!
As I was taking pics, they kept asking me if I would call the ice cream man and tell him to come here.
Aislyn had a sign too, but I guess she got tired and decided to sit in the car and hold her sign up to the window.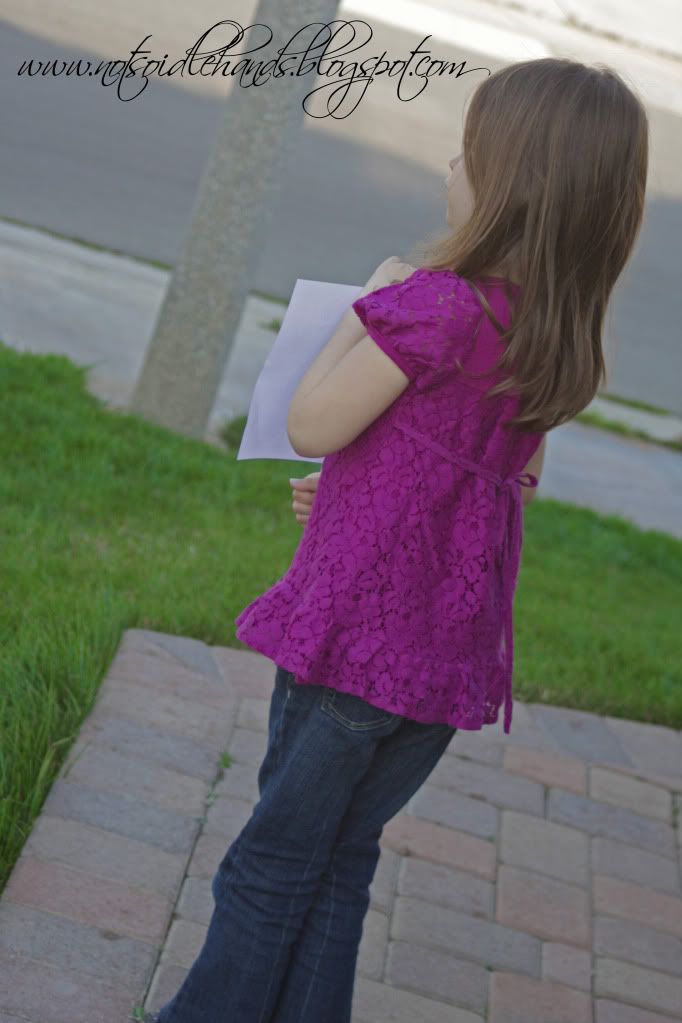 Maddie was more persistent.
To be fair…..They had some $$ they had earned and I told them they could buy ice cream if he came by that day…….and since this was a SUPER rare thing for mom to let them do…….they wanted to make sure it happened.
BUT…..
………sadly, even after all that, they didn't get their ice cream that day……and it just hasn't worked out since then :(
 There's always tomorrow.
Have fun!