Hope you all have a great day with your families remembering our veterans, past and present.
I know I will be.
(I love you daddy, thank you for serving this great country of ours!)
Now that summer is officially upon us, I wanted to post a recipe PERFECT for those hot summer nights or even for taking along for your next picnic.
Many moons ago, when I was younger and living in Colorado, I worked at one of the local Olive Gardens there.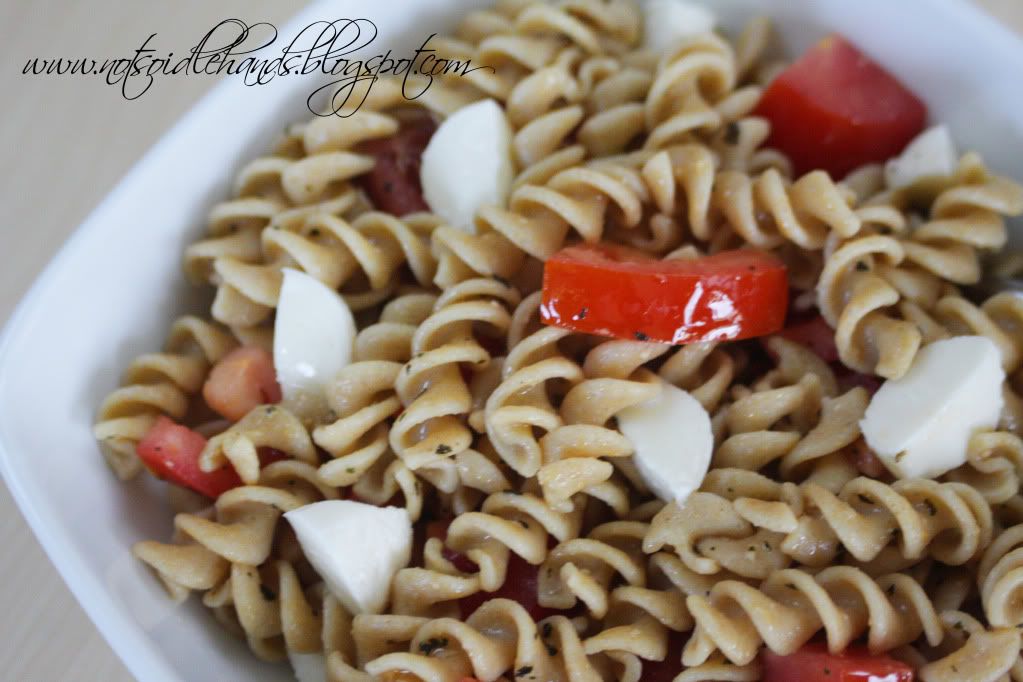 One of my
FAVORITE
dishes while I worked there (and still now) is their Capellini Pomodoro.
It's so yummy and healthy and has tons of tomatoes, which I LOVE,
AND,
It's super easy to make in a flash with not much cooking.
Since we have a wee babe 'round here these days, I've been making all my pasta dishes with rotini, so it's easy for Kira to pick up eat with her hands. I also use whole wheat pasta, so it takes a little longer to cook.
Here's the recipe, courtesy of  the Olive Garden web site
(check them out, they have LOTS of yummy recipes)
This is for 4 servings
Ingredients
14 oz capellini pasta (angel hair) or equivalent in another type
8 medium tomatoes, cut into ½" pieces
11 fresh basil leaves, chopped (also great with dried)
2 cloves garlic, chopped
6 Tbsp olive oil
Salt and freshly ground pepper, to taste
Directions
COOK capellini pasta according to package directions.
MIX diced tomatoes, chopped basil, garlic and oil. Season with salt and pepper.
DRAIN pasta. Toss pasta with tomato mixture in a sauté pan and heat throughout.
SERVE immediately. (or put it in the fridge till your picnic :)
 This also great to make the night before and refrigerate to serve as a cold dish at a picnic, just let the oil mixture cool a bit before adding the tomatoes, so they are nice and pretty when you serve (and not wilted looking).
I also happened to have some fresh mozzarella balls on hand, so I just cut them up and added them after everything was done. I would have added black olives too, but we didn't have any :(
 Also, since she has been SO busy making cute stuff, I want to show a few more things from Green Bean's Crafterole that she uploaded to the Not So Idle Hand's Flickr pool
Such a cute teacher's gift……..might just have to try this one!
YUM! These marshmallows look so good and they are surprisingly easy :)
Don't forget…….you can upload your projects to the Not So Idle Hands Flickr pool too and you could be featured too!!
Have fun!!