Yes, yes, I know what you all are thinking…….terrible blogger, this one. But, I won't bore you with excuses. I'll just get on to the cute new craft I have to show you all! 
Okie dokie, so I love, love,
LOVE
those cute framed wall calendars you can write on with dry erase……BUT I don't think the tiny squares are big enough to write things in (legibly)…..so, I still don't have one in "ma maison" (a little French thrown in to sound more sophisticated). 
Well, the desire to have days planned out came up again once summer started and the kiddos always want to know: "mommmmmmmm, when are we going to the beach?" "mommmmmmm, what day is movie day again?" "mommmmmmm, when can we go to the library this week?"
AND
, now that school is starting soon (10 days to be exact…..not that I'm counting or anything), I need to be even more organized!!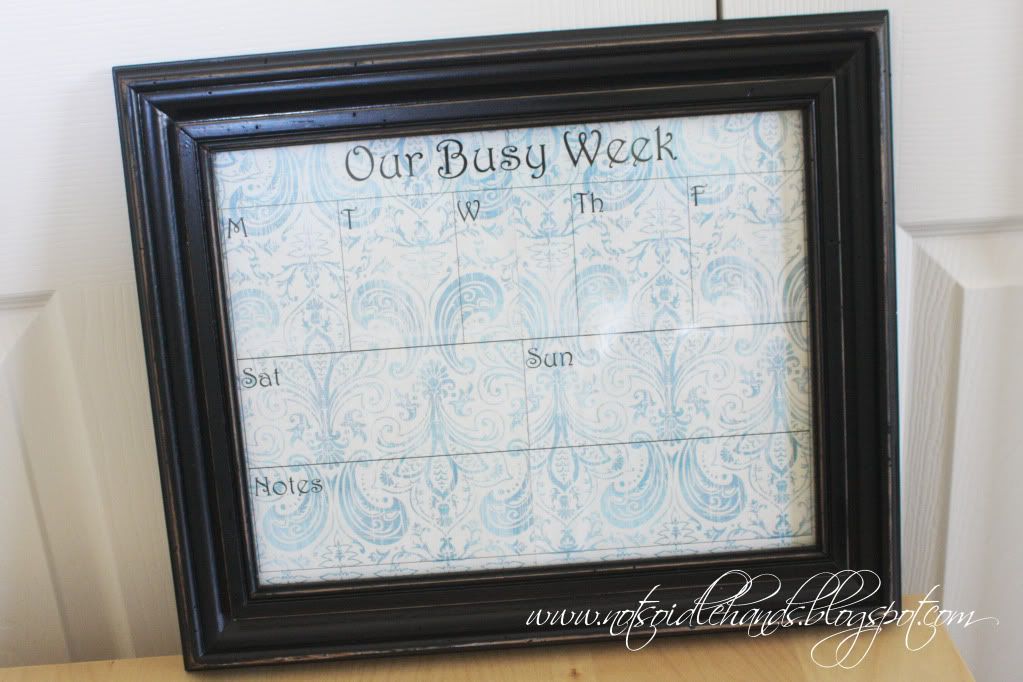 Soooooooo, I thought that having a weekly calendar around would be a great help to keep track of the family's fun activities as well as appointments and such. I also though to myself: "Self, wouldn't it be nice to think up a way to do this
without
using vinyl……so anyone can whip up one of these awesome organizational tools up without needing to run to your friendly neighborhood vinyl expert (like me). 
Well, you all know I like things on the cheap……so
of course
I went out and found this sensational old frame to fix up for a few buck-a-roos. There was some very questionable deposits left all over it……so it took longer than usual, but was
SO
worth it in the end! I need to remind you all in these situations…….don't forget the primer!!!! More and more these days, you can even find primer that matches the color you choose to use.  So it only took one coat of primer and one coat of paint.
I designed this so it can be printed out onto super cute paper and put into the frame of your choice. Mine is 11 x 14, so if you use the design for larger than an 8 x 10 frame, you will need to set your printer up to print onto 2 separate pages and tape them together. I just wouldn't use paper with glitter on it since, sadly the ink won't stick to those parts. I designed 3 sizes (
8 x 10
,
11 x 14
, & 
12 x 12
) so you can pick what best suits your needs.
Then, you trim it down to size and tape the pages together in the middle and…….easy peasy, you have your new weekly calendar!!! It's great since you can periodically change the paper to match your decor!!
Have fun!!