So sorry about my blog's plain Jane appearance right….It's in the middle of a facelift and should be right purdy in a few weeks…..
Here at the McDonald Casa, we make our kiddos our slaves….er, do chores. And this chart remains the best and easiest way we've found to get them to do chores and keep track of who does what.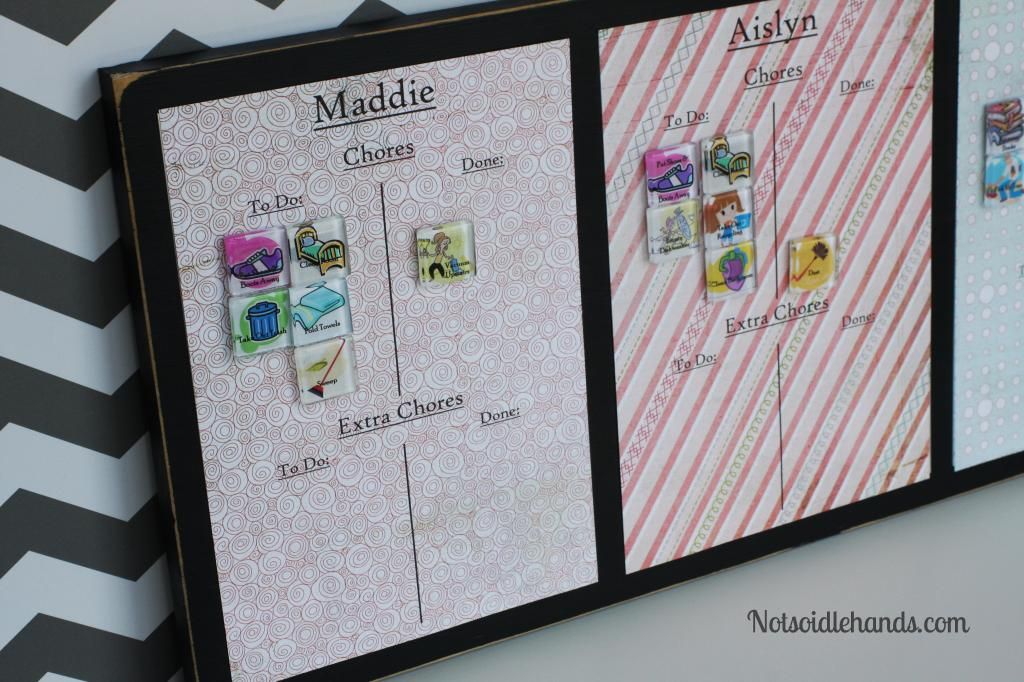 I wanted to re-post this awesome parenting tool again as well as offer up the files again (I know the old files didn't work all the time). I added more chores and changed up the background paper on mine, so I wanted to show that too.
Here goes:
You'll need:
 1- 31 1/2″-ish x 11 1/2″-ish wooden board (or shorter or longer depending on how many kiddos you have)
Black paint
8- 5″x7″ metal roofing shingles (found at Home Depot or Lowes)  
4- sheets of scrapbooking paper-cut down to 7″x10″ 
E6000 glue 
1″ square glass tiles-can be found on Etsy 
Super-strong magnets (I used 1/2″)
 
Diamond Glaze
You can make these as long or short as you need, but I wouldn't go over 5 or 6 panels since that would be ginormous! If you have more kiddos, you could make 2 separate 3 or 4 panel charts.
Paint and distress your wood. And go ahead and seal your board with some awesome Krylon "Low odor, clear finish" matte finish.
Then, lay out your metal shingles and arrange them till you're happy.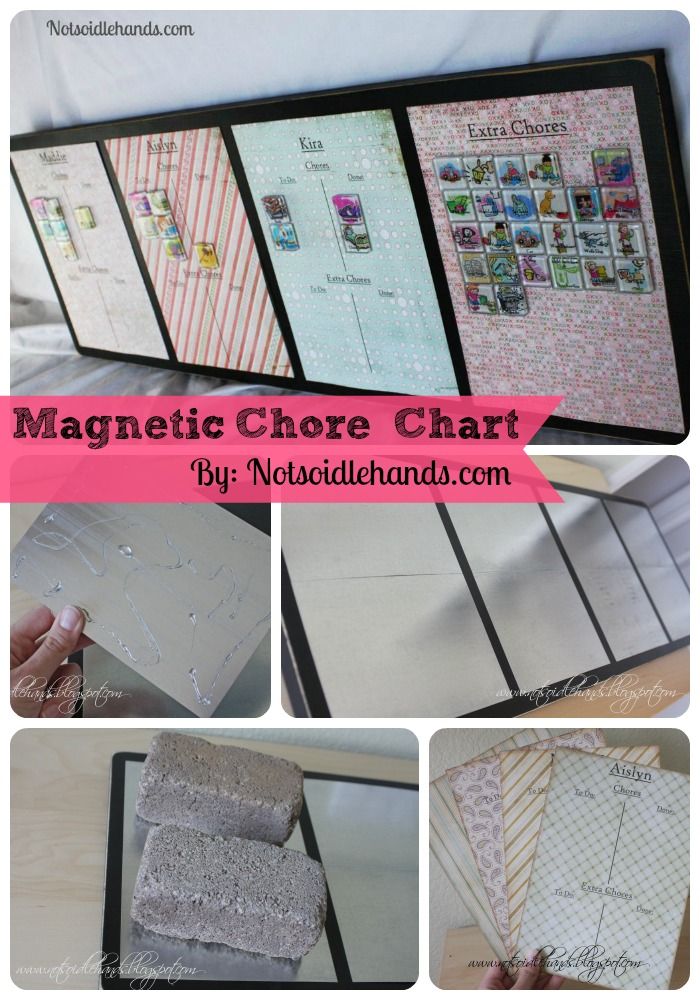 Then, using your handy-dandy (and stinky) E6000, glue your shingles down. I used some pavers to make sure they stayed down and are stuck nice and tight.
Then, I printed out the names onto the paper and adhered them with just a few pieces of double stick tape. That way it would be easy to change the paper if I want (for the seasons, or holidays, etc).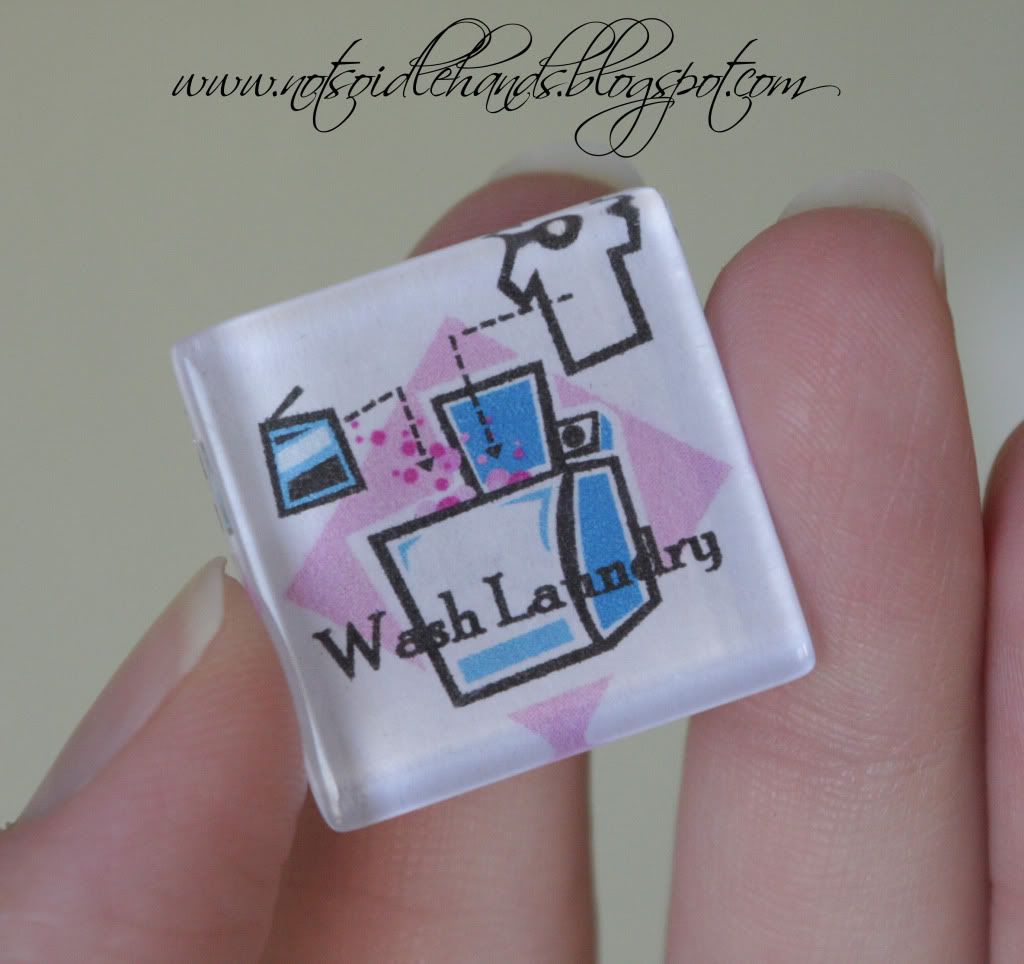 For the magnets, I got some 1″ glass tiles and super-strong magnets from Etsy or you can go here to Sun and Moon Crafts too (they are called neodymium) . I liked the larger size since there are pictures to help my girls be able to see what the chores are.
I made the cute chore magnets the same way as I showed 
here
.
And I worked soooooooo hard on these cute magnets…..but I am making them available to all of you super-cool peeps right here: (You just have to write in the kiddos names yourself)
Who loves ya!?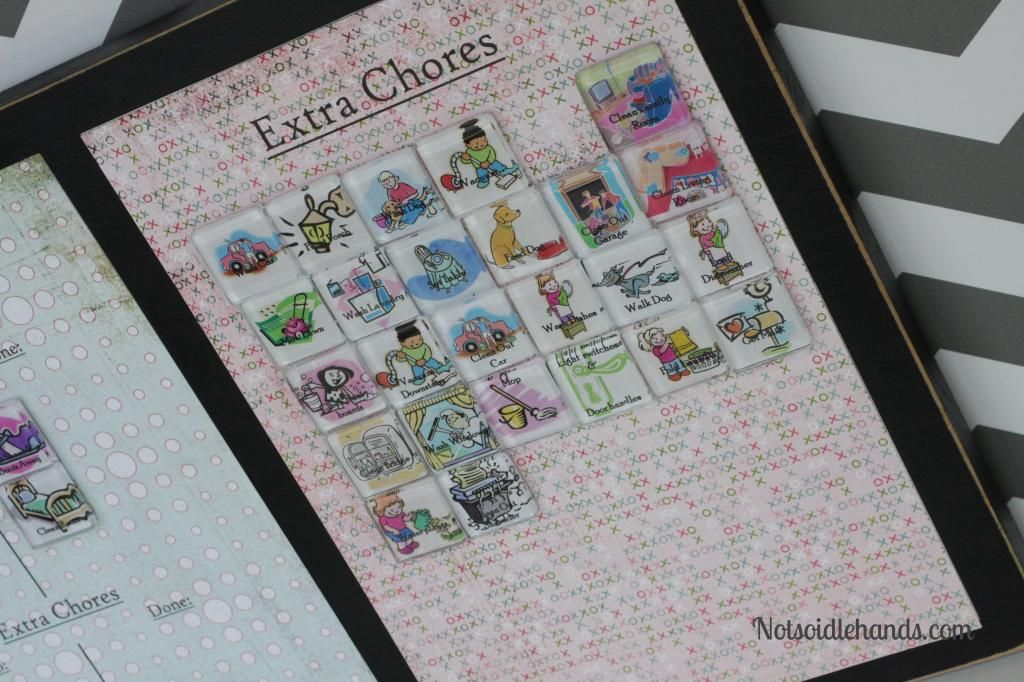 So, I'll explain the "extra chores."
Hubby and I don't want to pay our kiddos allowance for chores they should do no matter what….. and we don't want them to think that chores are optional (I don't get say no to laundry or dishes…do I?).Anyhoo, all the regular chores are not optional and they don't get $$$ to do them, but we thought up a bunch of extra ones that we thought were fair to pay them for. Then, we assigned prices for each one and made up a few rules:
1. Each "extra" chore can only be done once per week (so if Maddie already did it, Aislyn can't do it again the same week),
2. We get to assign the first "extra" to each kid (since some are not as popular as others) and then after that one is finished, they can do as many as they want,
3. They have to finish their "regular" chores for that day before they can do any "extras" and they have to get permission first.
Some of the ones I made are kinda made for younger kids, so you may need to make up different ones depending on your kids' ages. And as for "mow the lawn," we don't send our 5 & 3-year-olds out to do it alone……it simply means help mow the lawn until they are old enough to do it alone (so, next year :)
K, so there you have it. Hope your kiddos don't get mad at me for the chore chart ;)
Have fun!